Miles of MOUNTAIN BIKING trails to explore year round. SINGLE track trails exhilarate in summer and fall while FAT BIKES rule on our groomed trails in winter and spring. Dogs welcome!
Heather and Joe offer lessons to riders of all abilities- whether it is your very first time or you are a seasoned rider. They also provide the perfect instruction for kids to ensure that they are safe and skilled on the trails. Both Heather and Joe are qualified Level 1 with the Professional Mountain Bike Instructor Association. Heather is also a Level 3 NICA coach (National Interscholastic Cycling Association). To schedule a lesson, please email [email protected].
MEET HEATHER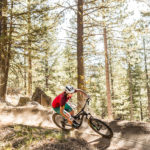 Heather is a native Idahoan who has always loved the outdoors. She began road and mountain bike racing shortly after college. When she is not designing, building, instructing, or riding the trails at JMR, she is also a firefighter paramedic. During the winter, Heather works as a ski patroller and does search and rescue work with her dog Bergen. Heather continues to do JMR proud by racing internationally in the pro women's field.
MEET JOE
Joe was born in Michigan, but discovered his love of biking once he moved to the mountains of Idaho. Since then he has made a career out of working with bikes and people, ensuring that each person he comes into contact with has the best day on the trails as possible. Look out for Joe as he drives the shuttle, designs, builds, and maintains trails.
schedule

SHUTTLE SERVICE
Starts June 10th
Runninng Saturdays and Sundays from June - September 10am - 1pm (weather dependent). Reservations are required! Please call 208.634.5072 Ext #3

TRAIL CONDITIONS
Trails are open and we are loving the fall weather. As the seasons change, please do your part and stay off muddy trails.