Thank you for your interest in Jug Mountain Ranch. Without a doubt, the best way to learn more about the Ranch is to visit.
GOLF:
For golf inquiries, please contact Dustin Ames in the Pro Shop at 208-634-5072 or email dustinames@jugmountainranch.com.
MOUNTAIN BIKING:
Contact Heather Thiry, JMR Mountain Bike Manager, at 208-634-5072 x3 or heatherthiry@jugmountainranch.com.
RESTAURANT:
Please email jmr@jugmountainranch.com.
EVENTS & FUNCTIONS:
Please email events@jugmountainranch.com or call 503.307.2656.
REAL ESTATE SALES:
Please call Kate McMurray at 208-634-6801 or email realestate@jugmountainranch.com for project information and property tours.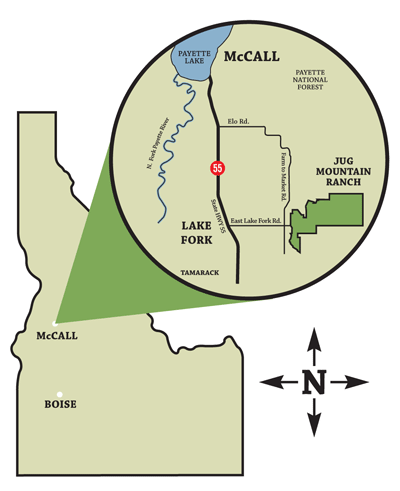 Save
CONTACT:
(real estate) 208-634-6801
(golf) 208-634-5072
(mountain biking) 208-634-5072 x3
(functions) 503.307.2656
(maintenance) 208-634-5073
LOCATION:
13834 Farm to Market Rd
McCall, ID 83638
DIRECTIONS:
From Hwy 55 at Lake Fork, go
east 1.5 miles on Lake Fork Rd
to the entrance of JMR.
MAILING ADDRESS:
Jug Mountain Ranch
Information Office
PO Box 2332
McCall, ID 83638