Events
Check out the great events happening this season at Jug Mountain Ranch!
Knobby 9-5 | June 10, 2017
Race starts at 9am and ends at 5pm and is limited to 95 participants. Register today at www.knobbytireseries.com and plan to come watch the action on June 10th!
McCall Trailrunning Classic | July 15, 2017
Big views, high altitude peaks and legendary singletrack for this epic 10, 20, and 40 mile race. Check out the race website to register and see the full schedule of events: http://mccalltrailrunningclassic.blogspot.com/
Idaho Enduro Series #3 | July 22, 2017
Part of the Idaho Enduro Series produced by www.dirtbagpromotions.com. Over night camping on site. The terrain offers something for everyone with graded courses, so no one gets in over their head.
Jug Jamboree | August 26, 2017
Idaho Interscholastic Cycling League season opener!  Come out to support young athletes from all over the state as they compete to earn points for the team state championship title! For more info visit idahomtb.org
Miles of

MOUNTAIN BIKING

trails to explore year round.

SINGLE AND DOUBLE

tracks

exhilarate in summer and fall while

FAT BIKES

rule on our groomed trails

in winter and spring. Dogs welcome!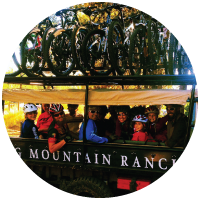 SHUTTLE SERVICE
Catch a ride to the top and save your energy for the amazing single track and freeride trails! Please call (208) 634-5072 to make a reservation.