The most unique lodging experience in McCall! Stay in our Alpine Cabin right on the shore of the Upper Jug Creek Reservoir. The cabin sleeps 7 and comes equipped with beds, furniture, and a wood stove. Just bring your own sleeping bag and gear (we can haul it for you)! You are welcome to bring your own food and drinks.
At the cabin you will have access to miles of trails, as well as access to our stand up paddle board, kayak and mountain bike rentals.
Please note: driving to the cabin is not permitted, but you can hike, bike, ski or snowshoe to get there!
Preview the Cabin Experience Here:
Provided Gear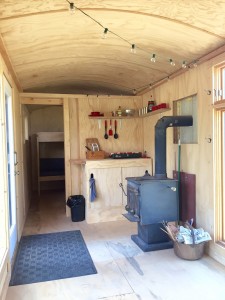 We have provided quite a few amenities to help make your stay comfortable and to limit the amount of gear you need to bring to the cabin.
Wood stove, fire starter and firewood
Overhead lighting
Gas cook stove (Please do not use gas for melting snow. See snow melting below)
Pots and pans
Cooking utensils
Salt, Pepper, Oil
French Press
Plates, bowls, cups, silverware (4 place settings)
paper towels
Cutting board and knives
Trash bags (trash disposal is at clubhouse parking, please pack trash out with you)
Dish tubs, Clorox, Soap, scrubbers and dish towels
Table, chairs and couch
Beds: 2 twin and 2 double
Goal Zero Yeti 400 solar power box for phone charging, music etc…
Water
Cooler with ice
toilet paper
What You Need to Bring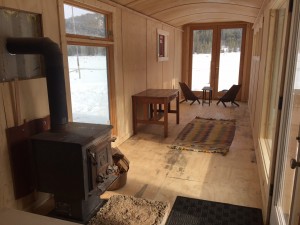 There are of course things you will need to bring to make your stay more like home.
Bring a cell phone and charger, there is service at the cabin and they are very helpful in an emergency and to brag to friends (Hey, guess where I am!).
Backpacks for gear unless you arrange for gear to be delivered and picked up.
Sleeping bags (20 degrees or colder rating HIGHLY recommended)
Pillows
Sports appropriate clothing:

This may include: Hats, gloves or mittens, long underwear (no cotton), wool or synthetic socks (no cotton), insulated over pants and jacket/coat (no cotton, No jeans), wicking shirts, fleece or sweater (no cotton). It is very important that you wear layers of clothing. Wicking layers against skin (no cotton), thin to thick insulation layer, water resistant breathable outer layer. This way you can take off and put on as needed. It is better to start warm than to try and get warm, and you can't put it on if you left it at the trailhead. Bring extra clothing even if you don't think you'll need it, weather can change rapidly in the mountains.

Sunscreen
Bug spray
Day packs for trips from yurt
Trail map
First aid kit
All your food and drinks
Slippers OR Cabin shoes
Flashlight or headlamp
Toiletries
Check-In: 3:00pm
Check in time is after 3pm at the Jug Mountain Ranch Clubhouse. Arrangements need to be made in advance if you need gear to be shuttled for you and there is a fee of $15. The cabin is located at the Jug Reservoir. There are several ways of getting to the cabin depending on your adventure of choice. We will show you on the map where the cabin is and how to get there when you arrive.
Check-Out: 11:30am
Access is through a code on the door that will be given to you at check in.  If you have paid for gear delivery, please let us know and we will bring the gear sled to your vehicle for loading.
During the Winter
Skis or snowshoes REQUIRED, you may not "hike" in boots to cabin in winter. (Rentals available Nordic Center)
Check-In = 3:00pm
Check-Out = 11:30am
Pricing
Midweek = $100 for up to 4 people
Weekend = $120 for up to 4 people
Add $10 for each additional person up to 6*
*Two single beds, 2 double beds, and 1 couch (max occupancy is 6 people)